Wok Pan
This original, individual wok pan delivers exceptional cooking performance. The nature of the cast iron and the pans above average thickness allows it to accumulate and retain heat up to 12 times more effectively than steel and transfer it to food in the most effective way possible. The wok pan comes with a lid, a support ring and a grid for inside the wok, enabling you to use the wok and grid to smoke foods.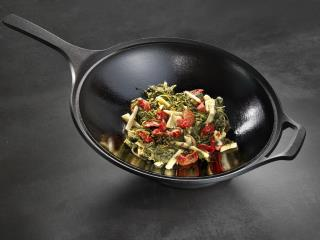 Made by
White's Foodservice Equipment has been serving the catering industry for many years, with their extensive experience built over decades of working with customers and being able to identify their needs. White's identified the importance and need for animal-free products, and so they introduced Ghisanativa to the UK. Ghisanativa's range of Vegan Cast Iron Cookware is a first of its kind. Due to the exceptionally pure way the cookware is created, it makes cooking and eating vegan and vegetarian foods even more enjoyable, especially due to the fact the cookware increases your iron intake in the simplest and healthiest way. Seasoned with Italian Extra Virgin Olive Oil, the pans, grill pans, woks, sauce pans and coquettes are all naturally non-stick without using any harmful coatings or chemicals, making them a joy to create beautiful recipes with. Coming with a Lifetime Guarantee, there is no need to worry about your equipment ending up in landfill – this is cookware for life; cast iron is famously durable, enabling you to pass down your beautiful equipment to future generations. Ghisanativa are focused on promoting healthy living and a healthy planet.
www.whites-foodequip.co.uk/white-product/cast-iron-cookware/
External websites may mention products that are not Vegetarian Society approved.