Bamboo Intimate Wipes
The Bamboo Intimate Wipes meet the human-ecological requirements of the standard presently established for products with direct contact to skin and does not have an unfavourable harmful effect on human health. This convenient travel size packages 10pc/pack. It's made of soft and gentle ecological bamboo textile and is fragrance-free, chlorine free, paraben free, alcohol free, and SLES-free. With Aloe Vera and vitamin E.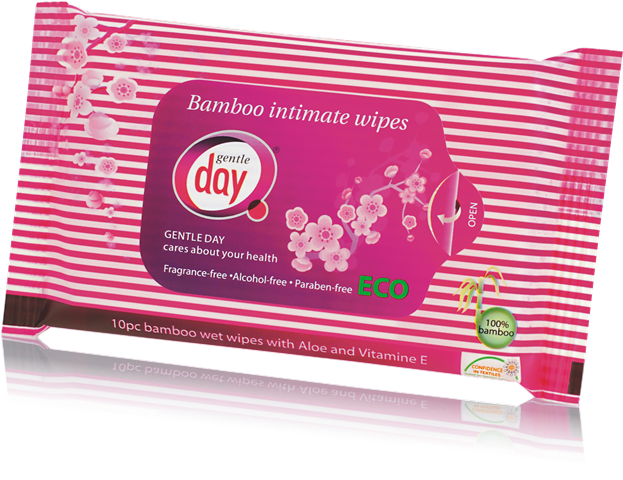 Made by
GENTLE DAY® is a brand of awesome products for women, by women. The GENTLE DAY® brand stands out because of the spirit of innovation and genuine concern about a woman's health and environment. Our products are designed to provide women with the ultimate comfort and a peace of mind. Therefore, they feature skin-friendly pH, are air permeable, and free of harmful chemicals.
Family-owned company was born in 2009. We've launched our first line of feminine hygiene products in Europe. Currently, our products are distributed in 15 European countries and loved by 1,000,000 women.
GENTLE DAY® pads and liners have revolutionized the European feminine hygiene product market by creating a new niche of eco-certified high-performance products: luxurious, but not by their price tag; eco-certified, but featuring great absorption and functionality.
www.gentleday.com
External websites may mention products that are not Vegetarian Society approved.