All Butter Shortbread Fingers
Dean's 'melt in the mouth' all butter shortbread fingers are hand-baked to Helen's original recipe. This carton is part of our indulgence range which makes a delightful gift or can simply be enjoyed at home!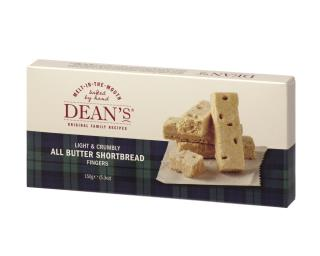 Made by
Thirty years ago, Helen Dean started baking shortbread to raise money for the Huntly Pipe Band. Her original all butter recipe is still used today earning Dean's a world-wide reputation for 'melt in the mouth' shortbread. Dean's of Huntly shortbread biscuits and oatcakes are made from natural ingredients with no additives or preservatives. With innovative recipes such as Strawberry and Double Cream or Praline Pecan, the Dean's range will tempt you to a little self-indulgence. Beautifully packaged, Dean's shortbread is also an ideal gift. Available at selected stores of Tesco, Sainsbury's, Asda, Morrisons, Somerfield, Coop and Iceland, as well as many local retail and gift outlets. www.deans.co.uk
www.deans.co.uk
External websites may mention products that are not Vegetarian Society approved.